Sansabelt Triple Flex Waistband
Sansabelt slacks feature the most important innovation in men's slacks since the zipper ... the patented Sansabelt waistband: a unique triple zone, triple action elastic webbing that provides comfort and performance with or without a belt. The front extension cross tab provides extra support and style.

Sansabelt Gabardine Twill
One of the most popular pants in the Sansabelt line. This is the pant that made Sansabelt famous. For dress or casual wear, this pant will provide the look and comfort you want. The Gabardine Twill is a medium weight 100% Polyester that offers comfort and durability. This pant is washable providing easy care and low maintenance. Offered in 10 colors.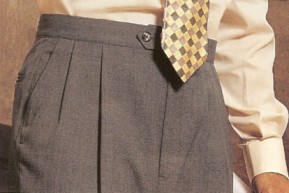 This very popular Sansabelt Four Seasons pant is the perfect pant for year around wear. This pant provides a dress look suited well for Sport Coats, but also works great as a dressier looking casual pant. The blend of 35% Wool and 65% Polyester creates a light weight breathable pant that resist wrinkles. This pant is washable.

The Sansabelt Jean is the choice for casual comfort. Made of 100% cotton this jean provides great comfort and wear. Currently offered without belt loops.


Mint Edition 100% Wool Gabardine
This is the top of the line Sansabelt. The Wool Gabardine is made of 100% Super 100's wool and is a mid-weight pant for year around wear. Offered with a pleated front and belt loops this is the perfect dress pant.This pant is also lined to the knee, in front of the pant, to provide additional comfort and wear.